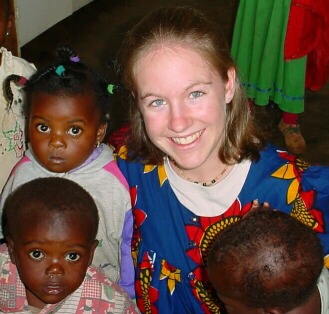 PO Box 44, Ndu, Cameroon
                                                19 September 2001
Dear Friends,
Greetings from Ndu! We have now been here at the seminary for 25 days, and are beginning to feel at home. Thank you for your prayers, which have helped us much during this time of transition.
This semester Coty is teaching a course on Jonah and Habakkuk, a course on Exodus, and three sections of economics. With his smallest class at 24 students, he is teaching about 40% of the students at the seminary. Learning all the names continues to be a challenge – even though students have unusual names like Genesis, Corinthians, Ephesians, Godlove, and Loveline.
Beth and the kids have settled into schooling. We have a room separated from the house in which we've put desks from the four youngest boys (the other option was to use this for a bedroom, but all five boys have been fine sharing the same bedroom). We have hired a wonderful cook, Fidelia; this frees up much of Beth's time, so that she feels more on top of our homeschooling this year than any time in the recent past. Indeed, Beth feels able to give more time to the seminary; on Friday she begins teaching library skills to new students, and next week will begin helping with the children's library program. She and Erin also are assisting the seminary president with some administrative tasks.
Erin is working three days a week in the child care center on campus – see the picture above. The girl in the upper left, Danielle, spent the first week running from Erin, afraid of this big white person; but now, as you can see, she loves her. We all enjoyed traveling last Saturday 15 miles north to Binka to visit World Team missionaries Randy and Shawn Olson. They work with the Fulani, a Moslem unreached people group. Many Fulani own horses, and the Olsons have bought some for themselves. Erin was thrilled to be able to ride for the first time here – and all our boys, including Jonathan, enjoyed long rides with the Olson boys, Scott and Luke. As you can see below, banana trees and thatched roofs provide an interesting background to cowboy hats and horses! Erin will be returning to Mbinka tomorrow and will visit some Fulani compounds with Shawn to speak to the women about the Lord.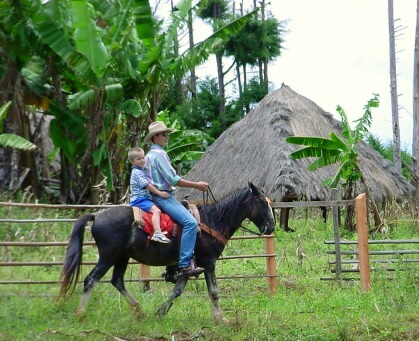 In addition to discovering that riding horses is fun, Jonathan has been busy; he finished writing a novel of about 70,000 words a few days ago. The other boys have been thrilled with all the other kids on the compound – children of both faculty and students. Every day we have a large contingent come by to play, as you can see below – and the soccer ball, Uno cards, and playing cards we brought get daily use. All of us have picked up Cameroonian accents, and Thomas may be able to speak real pidgin by the time we return.
Joel has recovered completely from the accident. His leg – particularly the ankle – remained swollen for several weeks, but he was persistent and determined to play with his brothers, and after a few days of limping and hopping was back to normal.
We have had three birthdays since our arrival; Matthew's, Erin's and Andrew's. For Matthew, we were looking for a real Cameroonian present. We walked around "downtown Ndu" trying to find something – and then realized that we had already seen the perfect gift: one of the boys on campus had an old bike tire that he would push along with a stick while running. The owner of a hardware shop said he would find us a used tire – he did, and Matthew as well as Andrew have much enjoyed this present. Indeed, they want to bring it back to the US with us!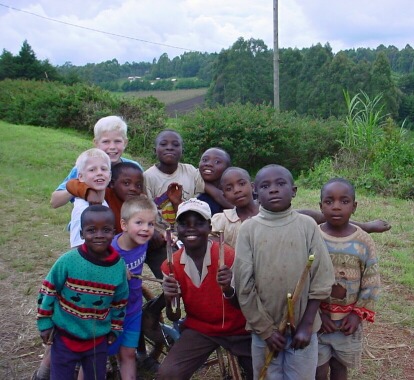 We arrived in the midst of the rainy season; for our first week we only saw the sun once or twice. Each week the amount of sunshine is increasing; come December, we are likely to begin 5 months with no rain. So far, however, we've only had a couple of days free of rain, and the high temperature most days has been in the sixties, with lows in the lower fifties at night. Electricity supply seems to be negatively correlated with rainfall; we've only had a couple of days of continual power supply, and some days power is off more than on.
The seminary has a 30-minute chapel service Monday to Friday at 7:30AM, which Coty frequently has found very moving. He speaks at that service September 28. Three-hour Sunday morning services on hard wooden benches take some getting used to, for adults as well as children. These services too, however, have wonderful moments: good preaching, enthusiastic singing, and occasionally lovely a capella harmonies. This last Sunday, "What a Friend We Have in Jesus" was particularly beautiful. Drums and dancing are routine parts of the service, with much of the music Cameroonian.
The students here are quite poor. Tuition and room charges total only about $140 per year – but even that is difficult to acquire. In many cases, husband and wife both are at the seminary, and must try to find odd jobs and work during breaks to cover their bills. But odd jobs paying even 20 cents an hour are hard to find, and eagerly accepted when offered.
Exciting things are happening at the seminary. In particular, more and more students are looking to serve as missionaries to unreached people groups in their own country. One student named Peter spent last break among an animist group, and after only a week had over 75 people coming to hear him preach, with more than 30 receiving Christ before his departure. He hopes to return to this village during break in January.
At the same time, the seminary is faced with many problems. Finances are a continual issue. Staffing is in a difficult transition period; several faculty are presently pursuing further studies overseas, and finding replacements during their absence is a challenge. The seminary has had three different Vice Presidents and three different Academic Deans in the last three years – and the present VP may leave in January, as he has been offered a scholarship to study in Ireland. Anyone want to join us for the spring semester, February through May? (I'm not joking . . .)
We continue to covet your prayers, both for us and for the seminary. Pray for more and more missionary spirit among the students. Pray for wisdom for faculty, especially for the president, Wilfred Fon, for the many decisions ahead. Pray for Beth as she begins to teach, and for both Beth and myself as we consider other possible ministry tasks. We hope to be an encouragement to other missionaries, and are considering what role, if any, we might have in the community outside the seminary. Coty doesn't have to teach between mid-December and the end of January; pray that we use that time in the way that will bring most glory to God.
You all are also much in our prayers; we regularly go through the list of all your names and pray for you. We offer special prayers in the aftermath of September 11. It is particularly hard for us to be away from you at this time; there is much we would like to share. We know that God will use even these evil deeds by sinful men to glorify Himself; we pray that He will use this occasion to pour out His Spirit in a mighty way upon His church and unbelievers in the US and around the world. We've heard bits and pieces of evidence that this is happening. So we encourage you: Now, of all times, be bold to proclaim the truth of salvation through Jesus Christ alone.
Thank you for enabling us to serve our Savior here in Cameroon.
Our love to you all,
Coty and Beth
Who has known the mind of the Lord? Or who has been His counselor?
 Who has ever given to God, that God should repay him?
For from Him, and through Him, and to Him are all things.
To Him be the glory forever! Amen.
Romans 11:34-36 NIV