CBTS
PO Box 44
Ndu, Northwest Province
Cameroon
30 October 2001
Dear praying family and friends,
Greetings from Ndu, where the dry season is just beginning.  I was looking out the kitchen window this afternoon as a big truck drove by on the dirt road behind our house.  Clouds of dust billowed up and drifted down across our side yard and over the clean clothes hanging on the line!  I expect we may all have a reddish brown dusty tinge in the months ahead.  But dust particles in the air make gorgeous sunrises and sunsets so we'll praise the Lord for the way he turns dirt into glorious masterpieces.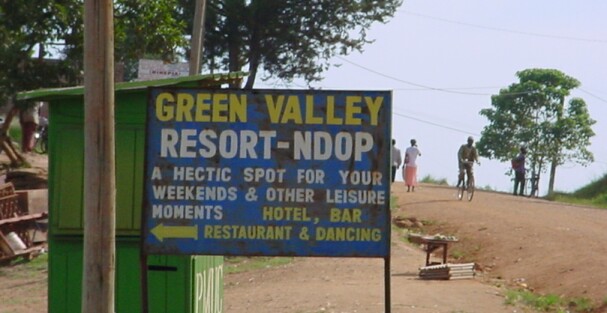 We just returned yesterday from the Baptist General Conference Field Council, the twice-yearly meeting of all the BGC missionaries in Cameroon.  We passed by the option of visiting the Green Valley Resort, whose sign is pictured above, since we were hoping for a refreshing rather than a hectic weekend. We were delighted to meet Tom and Ellen Schotanus, from Gardner, MA who are serving a three-year term, working with construction projects. Tom, who sold a successful construction business, a boat, and a cabin on a New England lake to help finance his mission, commented on the great sense of purpose he feels serving here; when comparing his previous life to his service as a missionary, he said, "How boring my life used to be!" The Council took place in Mbingo, where Joel was x-rayed and stitched the night after the accident. It was a joy to return under more pleasant circumstances. We stayed in the Upper Rest House, which is perched 200 feet above the hospital overlooking dramatic scenery of rocky hills and waterfalls. We trekked up and down the steep path to the dining room and delighted in the peace and quiet of the area. Our children enjoyed playing with the five Dallman children, and we much enjoyed deepening our relationship with their parents, John and Gala. We hope to arrange family visits with them each direction. They minister among Fulani Moslems about 130 miles northeast of us. Field CouncilHouHouJHHHh is a time of assessing what each of the missionaries has been doing and planning for the months ahead. The meetings were long but very helpful for us, as we gained a greater understanding of the work being done by others in Cameroon. We were impressed by the thoughtful, prayerful way in which challenges and difficulties were discussed, and appreciated the dedication of our colleagues. You can pray especially for two couples: Jim Smith, a retired doctor, and his wife Ina just arrived in September.  They will work at a health clinic associated with the Dallmans' ministry to the Fulani. Second, at Field Council we approved the application of our friends Travis and Sue Myers from Minneapolis, who hope to raise funds and receive permission to come to the seminary this summer.
Teaching continues to go well for both of us. Beth's teaching of library skills has been enjoyable and exceptionally well received. Coty has much enjoyed getting to know some students more personally. Let us tell you about one. In 1995, Paul Bamnjo had a good job working as a truck driver in Nigeria. However one night, thieves attacked and robbed him, spraying a chemical in his face to disable him. His eyes were severely injured. Although a Christian group sent him to Kenya for an eye operation, the procedure was not successful; he has absolutely no sight in either eye. Paul felt his life was over. He returned to his home in Cameroon only wanting to die, and seriously considered suicide. But God worked a miracle in his life, placing him in a school for the blind and then, before he even learned Braille well, giving him the opportunity to come here to CBTS. Despite many struggles, Paul will graduate in June. He presently spends five mornings a week, from 6:00-7:15 AM, visiting patients in the local health clinic, and feels a particular calling to minister to those with terminal illnesses. He hopes to become a hospital chaplain after graduation. Praise God for the work He has done in Paul's life, and for continued guidance as God leads him into the right ministry in the months ahead.
In the spring, Coty is tentatively scheduled to continue his three economics courses, and to teach The Pleasures of God (using John Piper's book as a resource), Revelation, and Christian Marriage. Beth will co-teach the last course. Coty has also begun a weekly, optional meeting to listen to sermons by great preachers, which he hopes to continue the rest of the year. In the first two sessions, he read sermons by Martyn Lloyd-Jones, and will read one by Charles Spurgeon next week. The schedule continues to be both exciting and demanding, so once again we covet your prayers.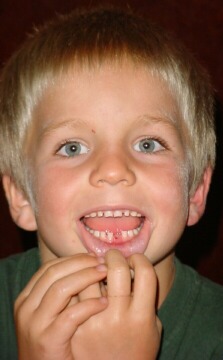 The children all continue to do well. Joel lost his first tooth recently, as is obvious in this picture.
Your great generosity has allowed us to contribute to the seminary in ways other than teaching. Before arrival, we spent almost $1600 for textbooks and computer equipment, and we have now been able to budget an additional $2400 for more texts. In addition, we have provided $1500 for student work-study funds. This will pay for about 7,000 hours of student labor, helping both with maintenance and building of facilities; these payments will then enable students to stay in school who otherwise would have to leave their program for a while to earn money to pay tuition. If any of you feel led to help the seminary in ways other than supporting us, contact us; we would be happy to give you a list of needs to consider prayerfully.
Some of you have asked about reaction in this area to the events of September 11 and the subsequent attacks in Afghanistan. All to whom we have spoken – including some Moslems in the area – decry the September 11 attacks, and acknowledge that the US has the right and the responsibility to respond in some way. At the same time, there is widespread concern for the people of Afghanistan. People here can relate to those who are poor, and who suffer because they have little or no influence over bad decisions made by their country's leadership. Students frequently pray that the bombings will end.
Other items for prayer:
Philemon Yong – whom many of you saw in our support video – will return to teach a short course in January. Four men studying at Bethlehem Baptist in Minneapolis will accompany him. Pray for their ministry, for the details of their travel, and for the safe arrival of the books that we have purchased, which they will bring.

Praise God for the unexpected ministry God has given us of encouraging other missionaries, and the blessings He has given us through these friendships. The picture here was taken near Binka, when we visited with our friends from World Team, the Lokkers and Olsons.

Continue to pray for the challenges facing the seminary, and decisions that must be taken in a few
short months about what facilities to expand and how to revise the seminary's programs.
face personally and fervently, and not allow our busy-ness and activities of service to crowd out our time with God.
Himself. We believe that the aftermath of September 11 opens doors to many Moslems; pray that His Spirit will use these terrible events in great ways for the glory of His name.
<![if !supportEmptyParas]> <![endif]>
Thank you once again for your love, your prayers, and your generosity. We are privileged to have such a solid team of supporters. Through our prayers and our work together, may God bring many people to Himself, who will say, "Whom have I in heaven but You? And earth has nothing I desire besides You! My flesh and my heart may fail, but You, O God, are the strength of my heart and my portion forever!"
                                                                                    For the glory of His Name,
                                                                                    Coty and Beth Pinckney