Cameroon Baptist Theological Seminary
Ndu, Cameroon
7 March 2002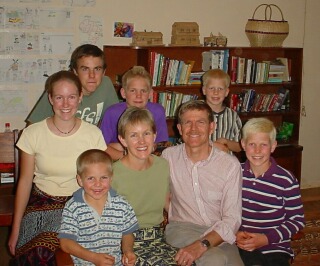 Dear praying friends and family:
February 27th was a big day for us – it rained! After 112 days without substantial rain, and 74 days without a drop, this brought great excitement to the Pinckney household. Hearing the drops on our tin roof, we all ran outside to feel the rain on our faces and hands, palms outstretched. This long-awaited rain provides a wonderful picture of missions to unreached peoples: after centuries and centuries of being lost in darkness, having no hope and without God in the world, after millennia of living in a dry and thirsty land, may all the peoples drink up the rain of the gospel of Jesus Christ; may that rain pour down in abundance; may God be pleased to use us all as clouds to send forth that rain!
In addition to longing for rain, we have been longing for direction for next year. We have a partial answer to that longing: we plan to return to the US this summer. While that had been our original plan, the seminary invited us to stay a second year, and we prayed much about the possibility. We are so thankful to God for bringing us here, and for all that He has accomplished in and through us during our brief stay; the needs here are tremendous. But we do feel that it is time to return, both in terms of the good of the family as a whole and in terms of our service to the body of Christ.
Note that we did not say, "time to return home." While sensing that God is leading us back to the US, we also are confident that He wants Coty to continue in full-time ministry rather than returning to a full or part-time job as an economist. In all likelihood, being in full-time ministry will mean leaving Williamstown.
This leaves us up in the air, both in terms of the big picture – where will we live? In what capacity will we serve? – and in terms of details – what will we do with our Williamstown house? Where will we stay until we know where God is leading us? We highly value your prayers, thoughts, and suggestions during this time of transition.
In mid-February, Coty preached in CBTS chapel on Exodus 2:23-25, highlighting the four verbs that describe God's response to the cries of the Israelites: God Hears! God Remembers! God Sees! And God Knows! (You should be able to see the full sermon at www.expository.org). We do not doubt that He knows the path ahead for us, the path ahead for the students we will leave here, the path ahead for Community Bible Church in Williamstown. Already, apart from our knowledge, He has worked out His wise plans in a way that will bring great glory to Himself and the good of all His diverse people. So we look forward expectantly to His revealing those plans to us at the proper time.
Meanwhile we have much ahead of us in our remaining 3+ months here. Our various formal and informal teaching opportunities, as outlined in previous letters, are going well; we are particularly enjoying teaching the marriage class together, and see more and more the importance of that teaching in this cultural context. The children are eagerly looking forward to the hatching of our second batch of chicks, expected any day now. Beth and the boys travel to Bamenda March 10th for two weeks of classes and a play performance (co-directed by Jonathan) with other missionary homeschoolers (the play is an adaptation of A Midsummer Night's Dream; in his role as Bottom, Thomas will continue to refine the skills he demonstrated in the Christmas play when he played the donkey). The last week of March we plan to fly to Banyo, a predominantly Moslem area where fellow BGC missionaries John and Gala Dallman minister; we hope to arrange another trip later to southeastern Cameroon to visit World Team missionaries Joe and Lili Castillo, who minister to the Baka tribe, a pygmy people group.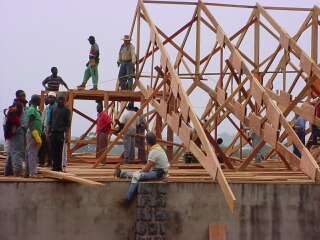 In our last letter we challenged you to consider how God might use you overseas. This time, we would like to make some specific suggestions, to broaden your mind about the opportunities for service in missions. During February, a team of 17 Americans from 5 different churches spent two weeks here, primarily putting a roof on a new church building (as pictured). Daryl Schuh, a contractor from Elk Grove, CA, spent two years in Cameroon in the early 80's building hospitals, and since then has returned every 18 months or so for about 3 weeks, bringing a team to do a construction project. On each trip there are some members who focus on child evangelism at local churches and schools (on this trip, that included the Moslem school in town). All of the participants find such an experience a life-changing event. (For more information about Daryl Schuh's 2003 trip, contact Gary Youdan at gyoudan@earthlink.net)
Short term mission trips are not limited to construction and child evangelism. Doctors, of course, are always needed; short term trips for them can be arranged easily. But many additional skills are useful; for example, right now both the seminary and the hospital in Banso have a real need for a short termer with skills in library management. The seminary desperately needs someone to teach economics for one or both semesters next year (a BA in economics and, perhaps, experience as a teaching assistant for a principles course would be adequate preparation). Won't you pray about how God could use you – and change you! – through a short term missions trip?
As you pray for your role in missions, we ask that you remember these other items:
Construction will begin soon at the seminary for a new classroom block, which will serve in part to house the forthcoming Cameroon Center for World Mission. More than half the necessary funds have been given. Pray for the remainder of the money to come in, and for the planning process for the Masters program in missions. (more info: kenboer@yahoo.com)

Travis and Susan Myers have been appointed as BGC missionaries, and are hoping to come to the seminary for three years beginning in August; Travis is now spending all his time raising support and studying in preparation for coming. (more info: susan.myers@bbcmpls.org)

Pray for a surgeon at our closest hospital, Banso, to replace the missionary who retires this December after 32 years in Cameroon. (more info: cpotratz@nabconf.org)

Pray for the six men who are studying biblical eldership with Coty, that they would be open to letting God's word challenge their conception of church polity, and that God would use this time together to bring them to a greater and greater delight in Himself.

Pray for the two groups of women Beth meets with regularly, that they would be encouraged and challenged to deeper intimacy with God through these times.

Pray for Erin's decision about whether or not to begin college this fall. She has been named a National Merit Finalist and has applied to Wheaton and Gordon Colleges, but with all that is going on in our lives this year, has not been able to focus nearly as much as most high school seniors on plans for the future.

Pray for Erin also as she travels to visit Fulani women together with World Team missionary Shawn Olson, that she would be able to use her studies of the Fulfulde language and play a part in sharing the good news of the gospel with this unreached people group.

Pray for continued guidance and direction for all of the Pinckney family, both for the big picture and the details; especially pray that those from the place we should minister will be able to overcome the difficulties of communicating with us, and that they and we will have clear discernment concerning God's plans.
We thank God daily in our prayers for the privilege He has given us this year through your generosity. We trust that He is repaying you a hundredfold in love, thanksgiving, and prayers on your behalf. We look forward to seeing many of you this summer, and being able to express our thanks directly to you.
Partnering with you in the greatest of all tasks,
Coty and Beth Pinckney