Ndu, Cameroon, 11 December 2001
Dear praying family and friends:
Sunday morning, Beth and I drove forty miles with four students to Ngeptang Baptist Church to preach and lead women's Sunday School. We bumped along for over two hours through stark but lovely scenery before arriving. Sitting on the platform waiting for the service to begin, I thought of last December – when I was in Minneapolis, and had not yet heard of this seminary. Those advent services at Bethlehem Baptist were so moving: the playing of the orchestra, the singing of great carols, Pastor John Piper reading his advent poems and preaching from Romans 6. With these thoughts in mind, I looked at the Ngeptang church: corn drying from rafters; a stiff wind blowing dust outside the open door; fraction problems left over from last week's school on the rear wall of the church; circles of light on the pulpit from old nail holes in the tin roof; an "orchestra" of cowhide drums, gourd and metal noisemakers, and a real horn – one that grew on a cow! As the music began to play and the choir marched in singing an African tune, I abandoned my planned call to worship and turned to Psalm 67:
Let the peoples praise You, O God; Let all the peoples praise You!
Let the nations be glad and sing for joy!
I was overwhelmed with the unity in diversity we have in Christ already – and the much greater diversity we will witness before the throne, when those from every tribe and tongue and people and nation will sing praises to the Lamb in perfect harmony. What a privilege to be worshiping with another people group, singing with another nation! What a privilege to proclaim the gospel message cross-culturally to a congregation of intent listeners! Three and a half hours later we closed the service, with more than a third of the adults moved to repentance, and giving some evidence of God's work in their hearts.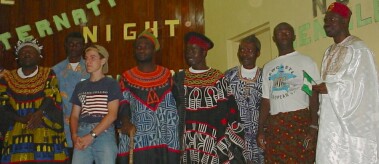 Here at CBTS, we saw that same unity of the peoples exhibited at our international night – an opportunity for each of the seventeen different people groups represented at the school (including Americans and Nigerians) to share something from their culture. Most danced and sang, and a varied, wonderful night it was. The picture above shows Africans and Jonathan in traditional cultural attire . . .
School closes on Friday this week. The break will afford more opportunities for preaching and travel, though we have much to do in order to prepare for next semester. Courses for the spring look to be set as mentioned previously: Revelation, Pleasures of God, Marriage, and three sections of economics. We are seeing more and more, however, that one particular calling this year is to assist in the development students' spiritual life. Along these lines, Beth meets weekly with eight women in the degree programs. This diverse group of women is eager to grow and be discipled. One has a real evangelist's heart, two are interested in counseling, some focus on youth or women, others look to work alongside their husbands. It has been exciting to see their enthusiasm for memorizing scripture, studying, and praying together. The women in the certificate program are also interested; please pray about that possibility for next semester. 
Coty has begun an open prayer meeting one morning a week, and has more than 110 students committed to reading through the entire Bible in 2002 using the Bible Unity Reading Plan (accessible to you through www.expository.org). On a more personal level, he is hoping to start a mentoring group for five students in the spring, leading them through Alexander Strauch's study on Biblical Eldership. We covet your prayers for these endeavors – and for the entire student body, that their studies would be much more than academic learning.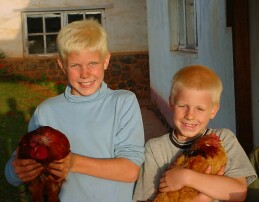 The family continues to do well. Our pet menagerie has been expanding rapidly, and is a source of great delight – for parents as well as children. The biggest expansion has been in the fowl department. As one of the Cameroonian children exclaimed, "Your hen has delivered!" Indeed, Chestnut, the little red hen, patiently sat on her eggs and we now have eight little fluffballs with names like Coconut, Callie, and Cocoa who follow their mama wherever she goes. Our rooster, Chester, roams around, but struts home every evening, in time to be put in his box for the night. We were also recently given two injured baby birds that Thomas gently and patiently nursed to health. Pippen and Merry now eat on their own and are growing incredibly fast. Merry, who is tiny, thinks Pippen is his mother. It's fun to watch the two of them snuggle together on the perch, heads tucked under wings. The boys have been offered a guinea pig by a student who raises them for food but if we do get one, it will be a pet – not a new item on the menu! 
There are other new items on the menu, however. Several of you have been curious about what we eat. We especially love the fruit here – pineapples, papayas, passion fruit, guavas, oranges, grapefruit and bananas.  We make juice from the guavas and passion fruit. Some new favorites for us include yellow yams (which are a bit like large yellow potatoes and not sweet like yams at home), plantains, and jama jama, a type of green that is eaten regularly by Cameroonians. Ginger and garlic are used in abundance in the local cooking; we love our cook Fidelia's country red beans and spicy groundnut (peanut) soup.
We do most of our shopping for produce on market day and have learned what prices should be and how to bargain. In addition, we also buy produce from a local gardener who grows "missionary vegetables" – cucumbers, lettuce, green peppers, spinach, and even rhubarb, items rarely eaten by Cameroonians.
Perhaps the most unusual food that some of us have eaten is green grasshoppers. On certain moonless nights in dry season the green grasshoppers fly out by the thousands, attracted to the outdoor lights. Children and adults eagerly catch them in great quantities, to fry the next day. Sometimes the grasshoppers are still alive as they go into the pan. It's a challenge to keep them from hopping out before they are cooked!  Our four younger boys are avid green grasshopper hunters and have enjoyed eating them with their friends. Beth has cooked them but has not been tempted to taste-test . . .
We ask you to continue praying about the items in our last letter, all of which remain relevant. Pray particularly for our course on marriage. We see the primary need as building up the marriages of these future pastors – for if they are not modeling solid Christian marriage, they will not be able to help those in their congregations. Yet, the class we are scheduled to teach has only one woman in it, and none of the spouses of the students. The Dean has agreed that it would be good to involve the 12 wives who are on campus – but none of us, yet, has devised a way to schedule the course so they all could attend. Pray that God will enlighten us via some out-of-the-box thinking so we can see how to accomplish these goals.
Also, pray for our students as some return to their home churches and others travel to remote areas ministering to unreached peoples. Pray that they would be in the Word regularly, and would proclaim the message faithfully and fervently.
Pray for those who indicated they accepted Christ in Ngeptang. Pray that God would make His Word dwell in them richly, and that the leadership of the church would be effective at following up.
Finally, pray for us as we consider God's call for next year. Our intention has been to return to the US in early July, but all along we have said that we would not make our final decision concerning a second year here until January, after experiencing life for a full semester. Pray for wisdom and discernment – and if God is calling us back to the US, for guidance in whatever direction He is leading us.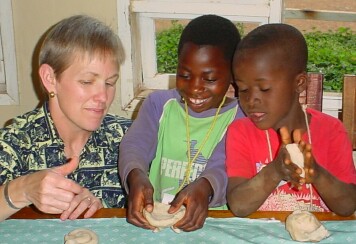 Thank you again for your prayers, which we know you lift up regularly. We could not be here without your financial support, and we would be ineffectual here without your prayer support. Continue praying that whenever we open our mouths, words may be given so that we will make known the mystery of the gospel fearlessly and boldly, and that God might choose to add to the diversity before His throne through our ministry here in Cameroon.
Let the nations be glad and sing for joy! And may you sing for joy this Christmas season.
For the glory of the One born in the stable,
Coty and Beth Pinckney (with Erin, Jonathan, Thomas, Andrew, Matthew, and Joel)