August 24, 2001
Friends and Supporters:
Beth has written of God's tender mercy towards Thomas the night we told our children that we would come to Cameroon for a year. Today, our first full day in the country, we experienced one of God's severe mercies, clothed with tenderness; or, perhaps better, one of His tender mercies clothed with severity.
Our flights yesterday had been tiring but uneventful. While clearing immigration and customs at the airport had been tedious, we made it through with the help of Vincent from the Cameroon Baptist Convention office in Bamenda – who had driven down to pick us up. Our night at the Douala rest house went more or less as anticipated; we all went to sleep, tired from our journey, but then most of us were awake off and on from midnight to 3AM. Only Joel slept throughout the night, a good 12 hours of sleep for him. He would need that good rest.
Gary Stephens had arrived from Ndu late last night, and he and Vincent divided up Pinckneys and their luggage between the two vehicles. I was traveling with Jonathan, Thomas, and Joel in Vincent's van, while Beth, Erin, Andrew, and Matthew were in Gary's Pajero.
We were enjoying ourselves counting chickens, goats, and other assorted animals when we rounded a corner. A pick-up truck loaded with fruit was making a U-turn right in front of us. Vincent hit his horn and his brakes, swerving in the hope of missing the truck. But the truck kept moving right in front of us. We hit the rear third of the truck hard. Something smashed the windshield. I looked at Vincent, who was fine, and heard screaming in the back. The 8 or 9 hundred pounds of luggage we had behind the rear seat had pushed it forward, Jonathan – wearing the only seat belt in the rear; most vehicles here have no seatbelts in the back – was stuck. Joel was crying, but looked ok. Thomas, however, had blood all over his face. I helped him out, looked him over, and saw that all the blood was from his nose. He was not badly hurt, however, so I left him with some others to care for him and turned my attention to Jonathan, who had pains in his legs and was having a hard time getting out of the car. I was able to push the seat back a little and he limped out, with assistance. He, too, seemed banged up but not severely hurt. I then went to pick up Joel, who was still crying. I had seen blood on his leg, but thought that was from Thomas' nose. Then I touched the back of his left calf – it was almost as hard as a rock. I turned over his leg and saw a deep hole – he clearly had hit it very hard. I thought the leg might be broken and called that out. We lay him down on the back seat of another car, propping up his leg. But there was no ice, no medicine. The large crowd of onlookers flagged down another car, whose driver was willing to take us to the nearest hospital. Vincent had found someone in the crowd he knew, who was going to stay with the vehicle, and the rest of us were preparing to get in the car to go to the hospital.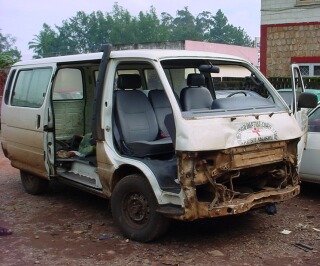 Then I saw Gary's Pajero pull up with the rest of the family. They had left the rest house about 25 minutes before us, but had stopped at a computer store. We figured they were ahead of us since we had not yet caught them. But there they were. I ran to Beth, telling her Joel was hurt, so thankful to have her there, with her always cool head and uncommon good sense. God has blessed me through her, time and again in my life, but surely that moment was one of the greatest blessings.
Gary told us what we had read but forgotten: because of conditions in most Cameroonian hospitals, the mission strongly advises that we avoid all but mission hospitals except in life and death situations. But the nearest Baptist hospital was more than 6 hours away, another 45 minutes past the days' destination of Bamenda.
The external bleeding was under control. While there clearly had been significant internal bleeding immediately after impact, the swelling did not seem to be getting worse. And Joel, while being moved, had not seemed to experience any increase in pain. If the leg was broken, it was likely a crack instead of a dislocation; given issues of AIDS exposure, the possibility of getting an unknowledgeable doctor – or no doctor at all – making the long trip made sense. I prayed quickly, and all eight of us crowded into Gary's vehicle, leaving Vincent to deal with the police and all but our most essential luggage.
Joel was amazing; at times he continued to count goats, chickens, and pigs. He smiled, and occasionally laughed. But as the long drive continued, he began to wear out; his eyes rolled back in his head a little, and I prayed that we could go just a bit faster.
But we couldn't. Instead, close to our destination, we had to stop and wait 4-5 minutes for road construction where only one lane was operational.
We finally pulled into the Cameroon Baptist Convention's headquarters and rest house shortly after sunset, and saw a pile of homeschooled missionary kids looking out for us. It was an encouraging sight: all these folks, informed of our situation via Vincent's cell phone, waiting, praying for us.
Joel, Beth, and Erin went on to the mission hospital at Mbingo, another 45 minute drive, and he received excellent care from Dr Zimmerman. An X-ray shows that the bone is fine; he received two stitches, and will have to stay off the leg for several days.
Why did this happen? Why did God allow this accident to happen our first day in Cameroon? Are we even supposed to be here? We can't help asking such questions, particularly when lying awake in the middle of the night, seeing the accident all over again.
What are the answers? First, we have had to remind ourselves that this could have been much, much worse. Joel will be back to normal in a week or so; no one in either vehicle was severely injured. (The picture shows Joel in Bamenda the day after the accident).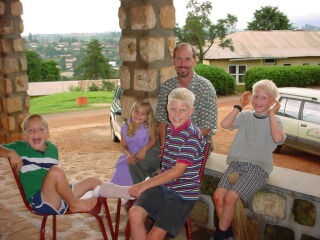 But there are much deeper answers. My last two sermons preached in the US were on Romans 8:28 and Habakkuk 3:17-19:
8:28 And we know that God causes all things to work together for good to those who love God, to those who are called according to His purpose.
3:17 Though the fig tree should not blossom And there be no fruit on the vines, Though the yield of the olive should fail And the fields produce no food, Though the flock should be cut off from the fold And there be no cattle in the stalls, 18 Yet I will exult in the LORD, I will rejoice in the God of my salvation. 19 The Lord GOD is my strength, And He has made my feet like hinds' feet, And makes me walk on my high places.
The accident has sent me again and again back to these verses. My understanding of God's ways is no greater than a two-year-old's understanding of his parents' ways. He promises us that He is indeed working >all things< together for our good – including car accidents and our suffering. This accident produced real bleeding, real pain, real heartache – and yet God tells us He works >all things< for our good and His glory. So we are to believe, even if we do not understand.
And we are not only to believe, but also to rejoice – to rejoice that we have such a good, almighty, and all wise God who ensures that all this suffering is clothed in His tender mercies, that all pain has a purpose: "Through many tribulations we must enter the kingdom of God." (Acts 14:22).
Finally, we must love God more than we love His good gifts; we must love Him more than we love health and family.
So we ask that you all rejoice with us, exulting in the God of our salvation. We ask that you pray earnestly for us that we might trust Him with our lives and our time here. We ask that you pray that we would remain focused on God our Father and our Lord Jesus Christ, that we would not be distracted by worries or cares, but that we would press on in following His call.
There is much more we would like to share with you; it is frustrating only being able to write vignettes. But you all are in our prayers and thoughts. Thank you for enabling us to come here and, through your prayers, enabling us to stay.
May the grace of our Lord Jesus Christ and the love of God be with you all.
Coty and Beth